Discussion Starter
·
#1
·
I found this article comparing the two models and thought it might be a useful read for some.
What Car? - New Jaguar E-Pace vs Jaguar F-Pace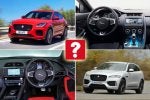 The new Jaguar E-Pace SUV is expected to become the brand's most popular model, but how does it compare to the bigger F-Pace?
https://www.whatcar.com/news/new-jaguar-e-pace-vs-jaguar-f-pace/
Few would argue that the F-Pace is anything other than a great looking SUV. And it's also very much a Jaguar, having a similar face to the XE and XF salooons. However, if anything, the E-Pace is even more striking.

Instead of giving it Mini-Me styling, the designers took inspiration from Jaguar's F-Type sports car. This can be seen in headlights that stretch back into the bonnet, and side windows that taper to a point over the muscular rear haunches.

True, the E-Pace more closely resembles the F-Pace from the back, but a new taillight design that features a distinctive kink (or 'chicane') instantly dates the semicircular detail found in the taillights of other modern Jaguars.